What is your job at ATS?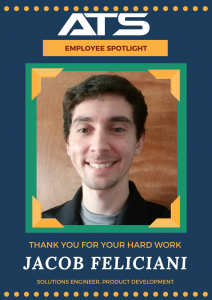 My job at ATS is currently a Solutions Developer.  I am a part of the team working to develop our ATSsim application to aid in training for disaster management and other forms of training. I work on all aspects of the applications from what you see on screen to all the inner workings behind the scenes.
What is your favorite thing about working at ATS?
My favorite thing about working for ATS is definitely the people working here.  I have made many close friends and acquaintances here, many being coworkers I interact with daily.  I also enjoy the freedom we have here at ATS to learn about and implement the latest and greatest web technologies out there, something that many other places can't do.
 What do you consider your biggest accomplishment while working for ATS?
The biggest accomplishment I have had working here at ATS would probably have to be the release of the Verity application created a year or so ago.  Between the team and I it was an incredible feat to accomplish, allowing for some truly incredible simulations to be built and expanded upon in the future.
What do you think about the work ATS does for the military and emergency response communities?
I think the work ATS does for the military and emergency response is truly amazing.  Allowing the trainees to get a sense of what they need to do before pitted in an actual situation, I can only imagine, is incredibly helpful and reassuring to not only the people being trained but also their superiors.
What might your colleagues be surprised to learn about you?
I have ridden dirt bikes since I was around the age of 6.
If you could learn to do anything, what would it be?
I would love to be good enough playing the guitar to just be able to play a song by listening to it.
Last song you listened to?
Boulevard of Broken Dreams by Greenday
What is the one thing you cannot live without?
The one thing I cannot live without would have to be my mountain bike. As of the past couple years since I started, it has been a newer hobby of mine and have had a blast going out riding.
If you could meet anyone, living or dead, who would you meet?
If I could meet anyone it probably would have to be one of the best Golfers who ever lived Arnold Palmer.
What is your hidden talent?
I have played golf for nearly 20 years now and used to play competitively in school.
How do you define success?
I define success as being able to meet your goals while doing what you love and enjoying your time doing it.