DULLES, VA – On September 9th, 2021, ATS participated in the 32nd Annual CALIBRE Classic Charity Golf Tournament that raised over $75,000 to "Homes for Our Troops" (www.hfotusa.org) at the 1757 Golf Club in Northern Virginia.  Jason Bewley, Mike Suman and Schawn Thropp from ATS along with Brigadier General, USA (Ret) Tom Landwermeyer made up Team ATS.  General, USA (ret) Landwermeyer serves as the President/CEO of "Homes for our Troops".
ATS President Jason Bewley said, "ATS is a proud supporter of the "Homes for Troops" and their mission.  A big thanks to Tom Landwermeyer and his leadership and CALIBRE for putting on a great event again this year".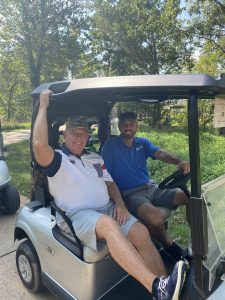 "As a leader in emergency preparedness training and readiness, ATS continues to actively work to deliver innovative, experience-based disaster-preparedness exercises solutions for local, state and federal agencies to protect communities. 
For additional information on ATS and ATS Solutions, please visit www.appliedtrg.com"